This is an office park in shanghai, and its public square was surrounded by four buildings. To make people feel released and free when coming out of the buildings, an outdoor furniture was built inside the square. The whole place is like an outdoor lobby. In this case the public square in the middle matches up with outdoor while lobby corresponding indoor. It's a blend.
在上海这处办公园区内,属于公共空间的广场四周矗立四栋固定的建筑,而在广场上,搭建一件"室外家具",便使人们走出建筑来到广场时,在建筑里被固化的行为在广场上获得释放和变通。整个空间像是四栋办公楼之间的一个"室外的大堂",广场场地对应"室外",大堂对应"室内",二者在此交融。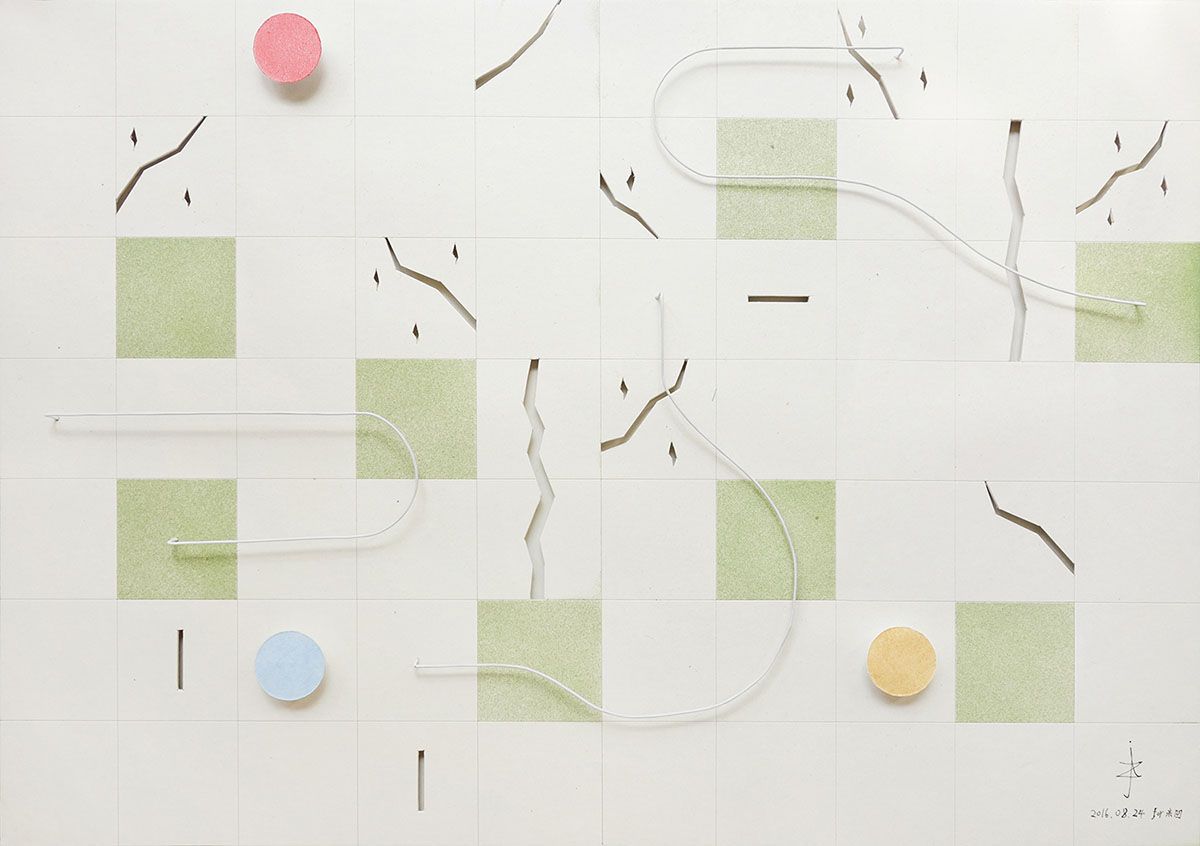 watercolor | Zhang Jun
The project is something art setting. The entire work is conducted under an architectural way but not necessarily lead to an answer so architectural.
这是一个属于艺术装置类的项目,用建筑的工作方法,完成一个未必是建筑的答案。

model | 方案模型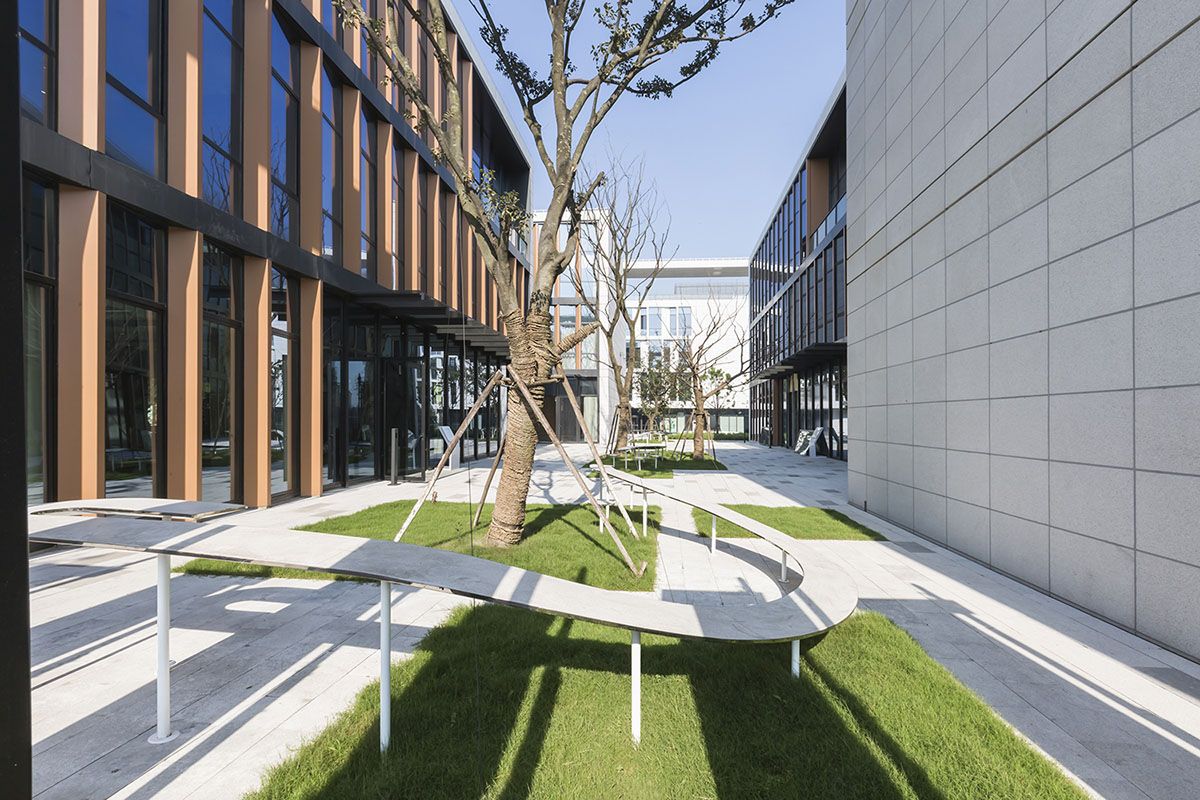 flowing between trees and grass seen from one side of square | 从广场一端看长桌,在树与草地间流动
central square | 广场中部的长桌
wall becomes background, grass, tree and long table stand tall and upright | 建筑的墙面成为背景,草地、树与长桌静静矗立
The furniture holds a variety of behavior. People could work, rest, do group discussion. Based on the idea, long table was built. Long table is a quite unique item. In some villages, the custom of long table banquet remains still. People gather at a long table, eating and chatting, and it could last a few days or a week. In the scene, the setting of table and chairs is relatively fixed, but free combination of food, guests and human activities.
围绕这件"家具",人们可以进行办公、休息、小范围的讨论等活动,它承载了多种行为的可能性。基于这个想法,"长桌"被建造出来。长桌其实是比较特别的物件,在一些乡村,至今还保留着长桌宴的习俗,人们聚集在长桌旁,吃喝、聊天,而宴席往往持续几天或者一周。位置和桌椅固定着,流动的是食物、客人、聊天的内容、活动等等。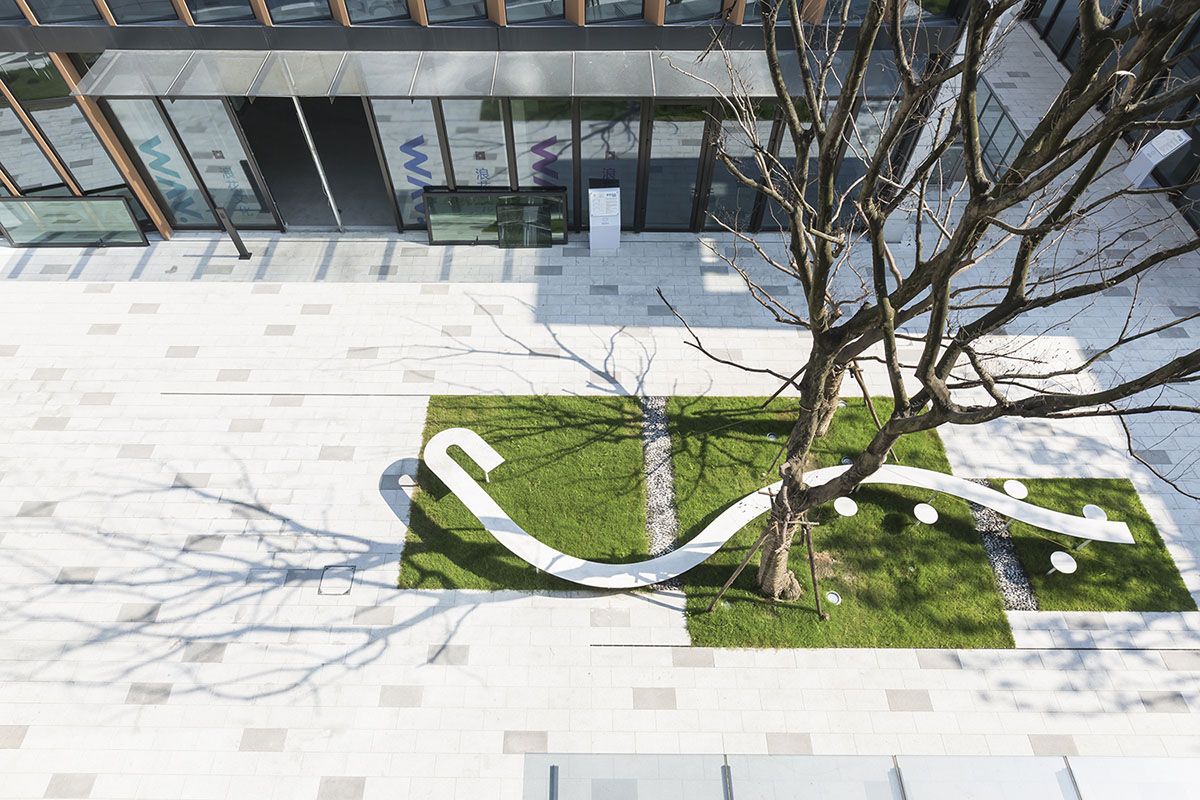 overlook view | 从三楼望向广场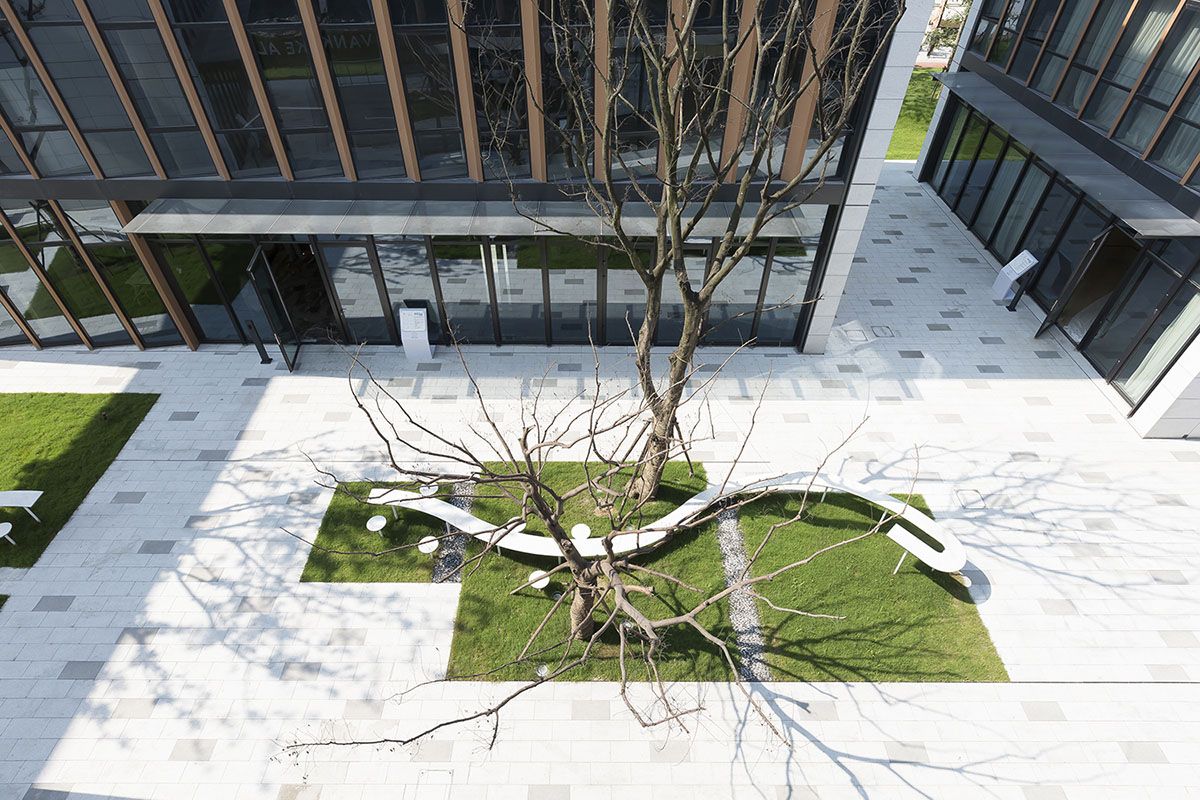 overlook view | 从三楼望向广场
In this project, the width of long table equals to the diameter of the stool which is 360mm. And it just meets the needs of placing a laptop. When the table height changes, it is easy to find a place to sit comfortably. When standing, people could find a right height to lean on, enjoying coffee. It also could be a perfect outdoor place for a small workshop. Long table presents mildly winding with its up and downs. People gets indoor co-working experience in this outdoor square.
在"广场长桌"的设计中,桌子的宽度采纳与凳子相同的尺度——360毫米,而这又正好满足一个人使用笔记本电脑需要的地方。随着桌子高度变化,它可以被当作凳子;可以作为桌子供单人使用笔记本电脑办公;也有配合人站着使用的高度部分,可以四五个人站着进行小范围讨论、聊天、喝咖啡等活动。其外观形态呈现蜿蜒转圜、高低起伏。在室外的广场让人获得在室内合作办公的体验。
curving down as seat | 桌面高度渐渐下降,成为椅面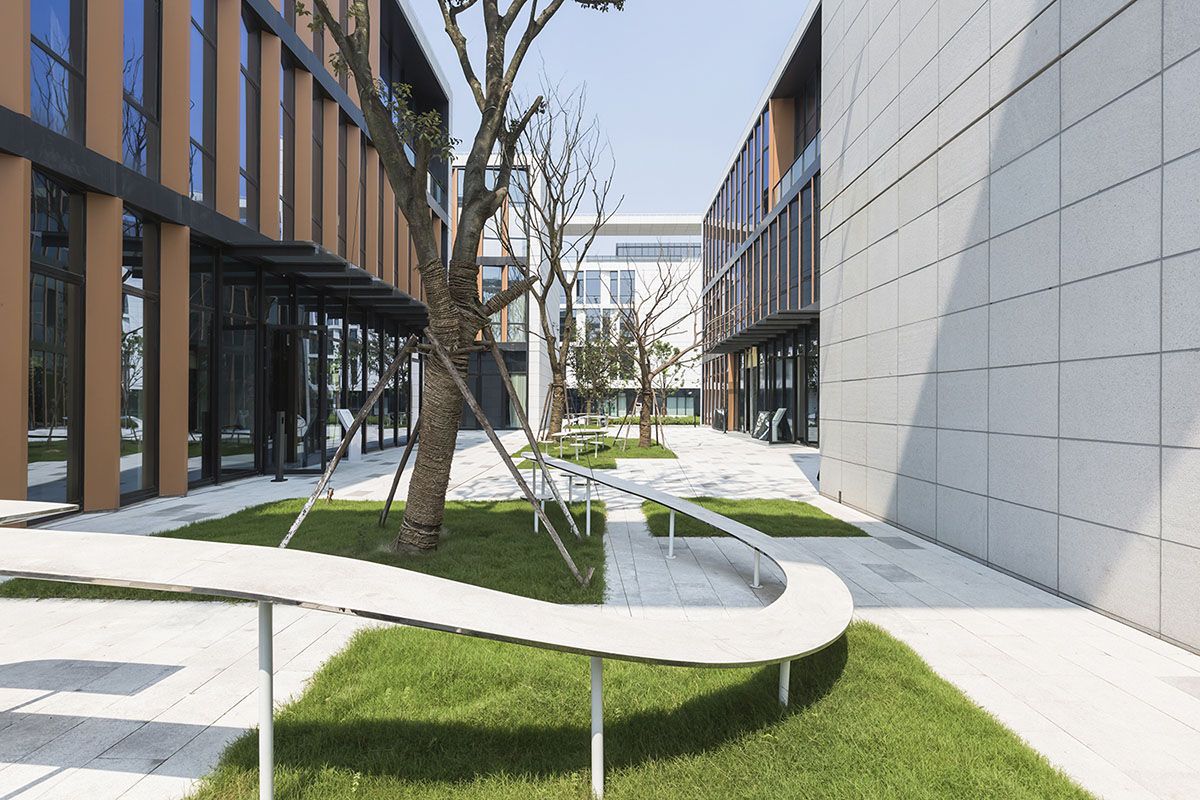 table height to seat height | 桌面高度过渡到椅面高度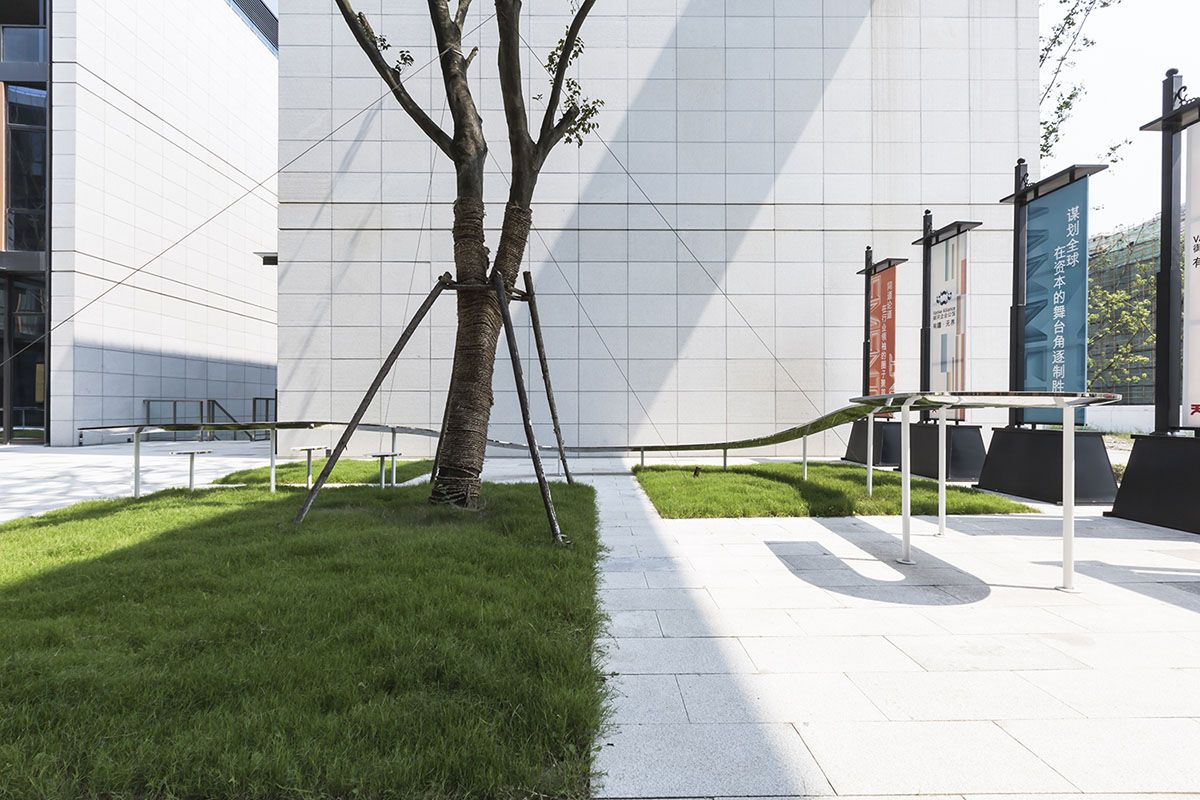 down to the ground | 桌面逐渐向地面靠近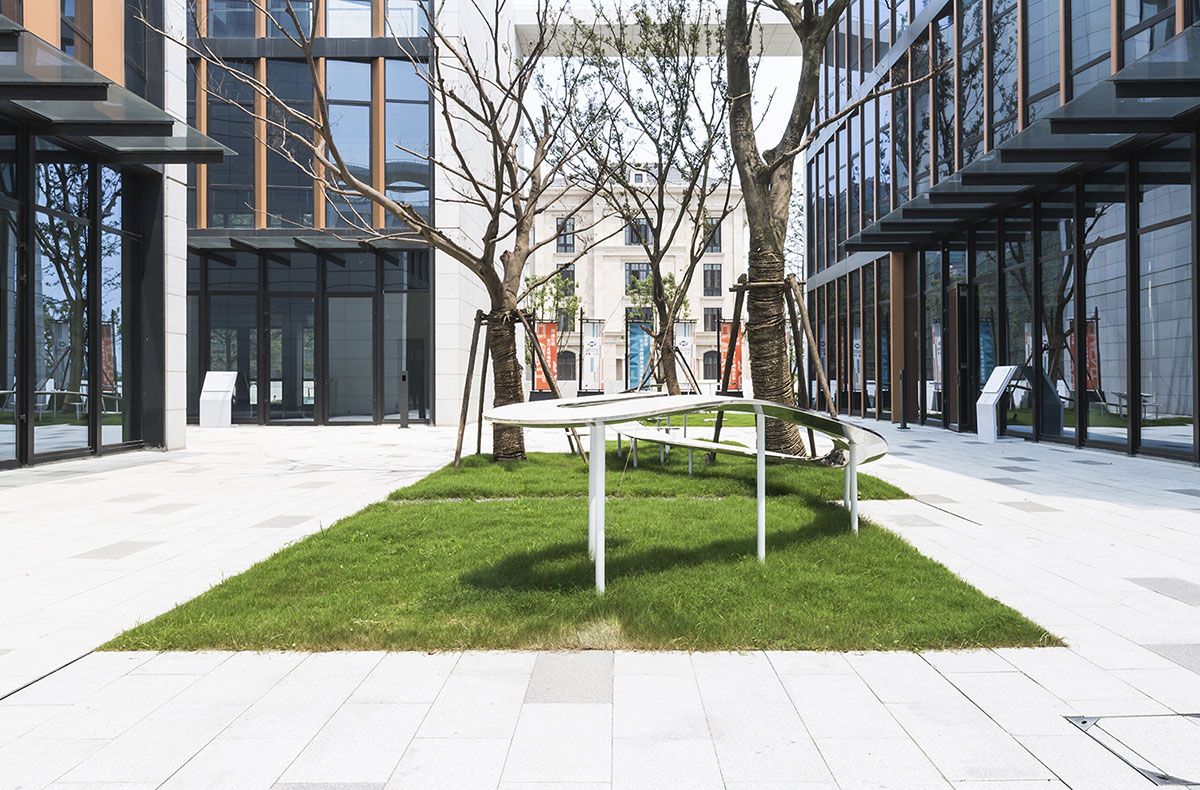 terrazzo surface and mirror stainless steel sub face | 正面的水磨石与反面的镜面不锈钢
multiple height | 长桌丰富的高度变化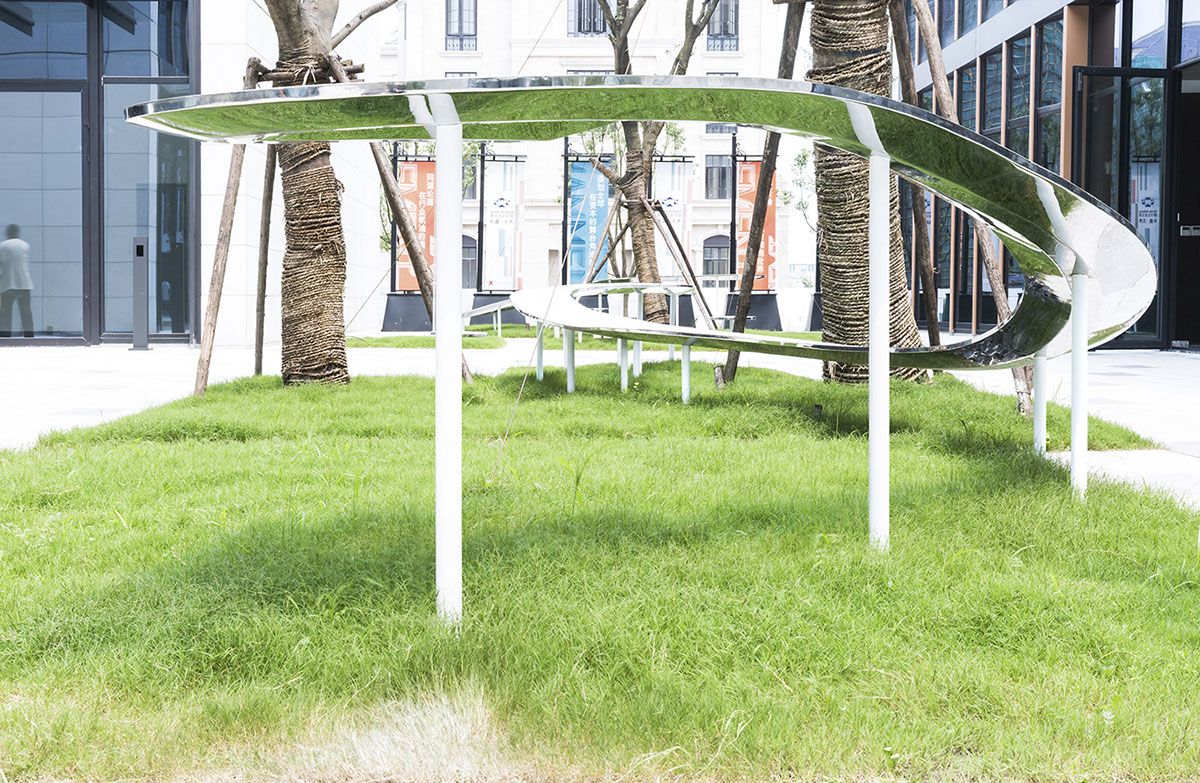 green grass reflected on sub face | 桌底反射出草地的绿色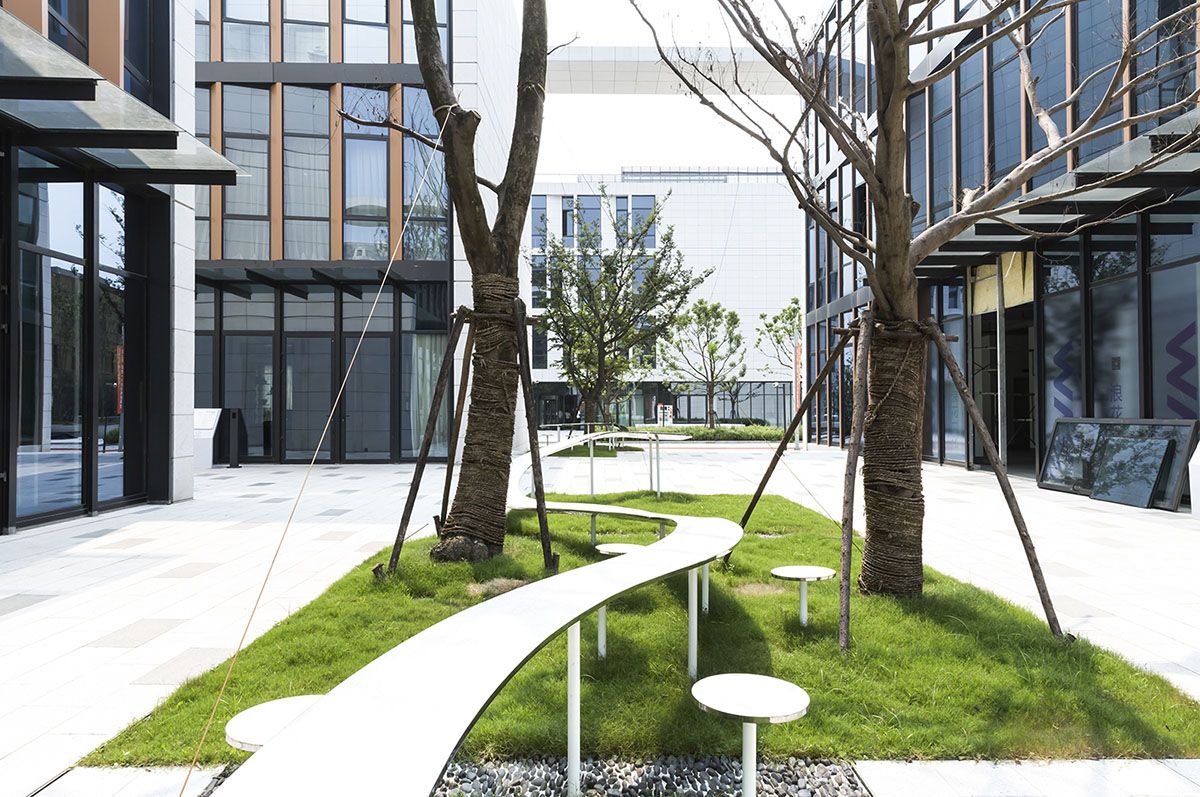 winding and flowing | 蜿蜒流淌的长桌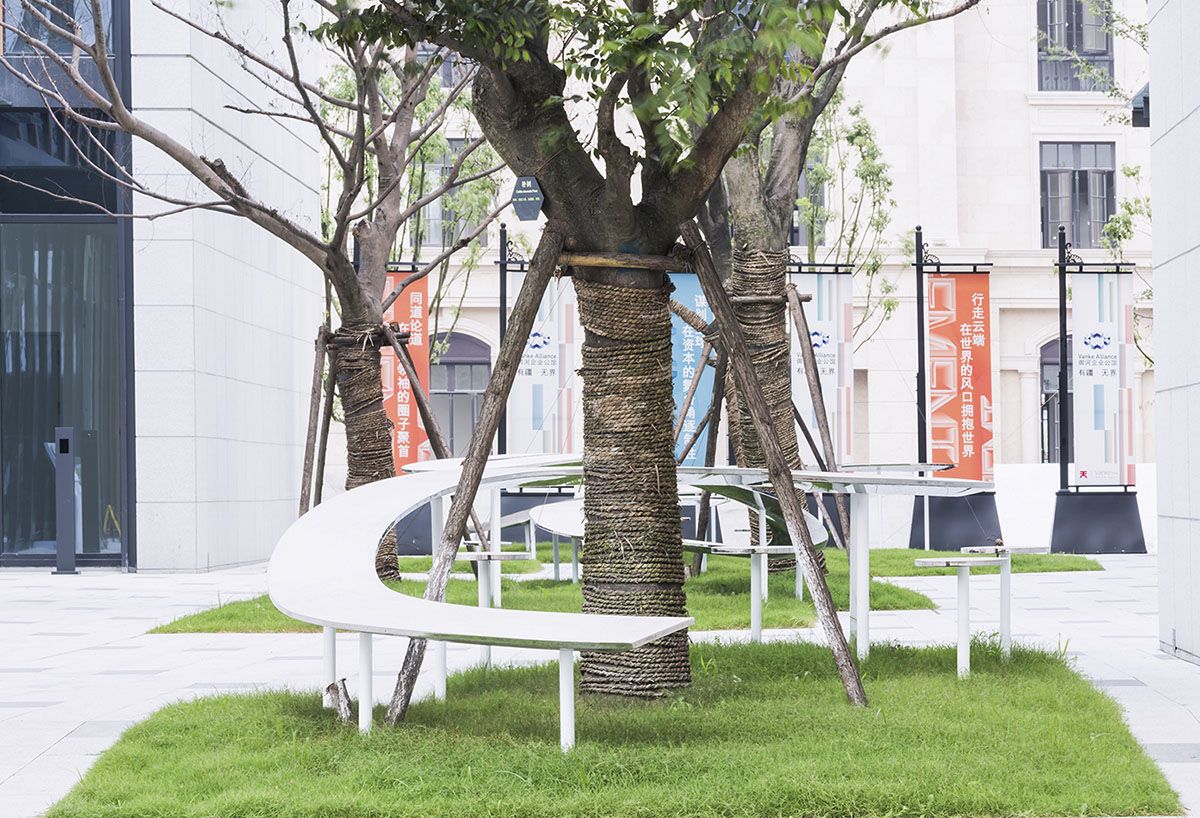 crossing in trees | 在树与树之间穿越
Long table is made from common terrazzo. Especially combing with stainless steel, it guarantees practicality. And by touch of it, a sense of familiarity triggers because both material and the craft adopted is quite traditional. After Long table is set, trees join and they become part of the space. The greenery serves both as sunshade and gathering area for people.
材料的使用上,采纳常见的水磨石,传统的材料和工艺让人产生熟悉感觉。将水磨石与不锈钢结合,既保证了实用性,又使人们在接触到熟悉的材料时感到温暖。长桌搭建完成,树木加入其中,成为空间的一部分,既提供遮阳功能,又可作为人的聚集点。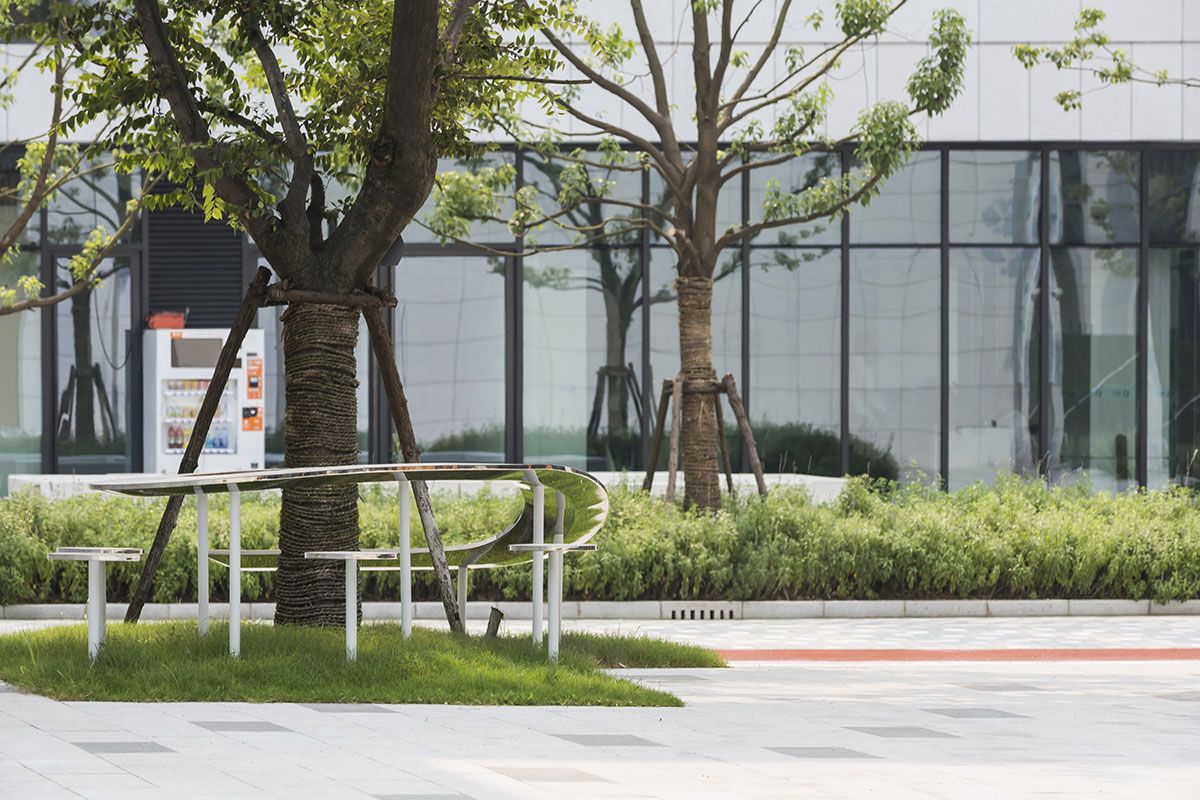 trees and long table became whole | 树木加入长桌,成为空间的一部分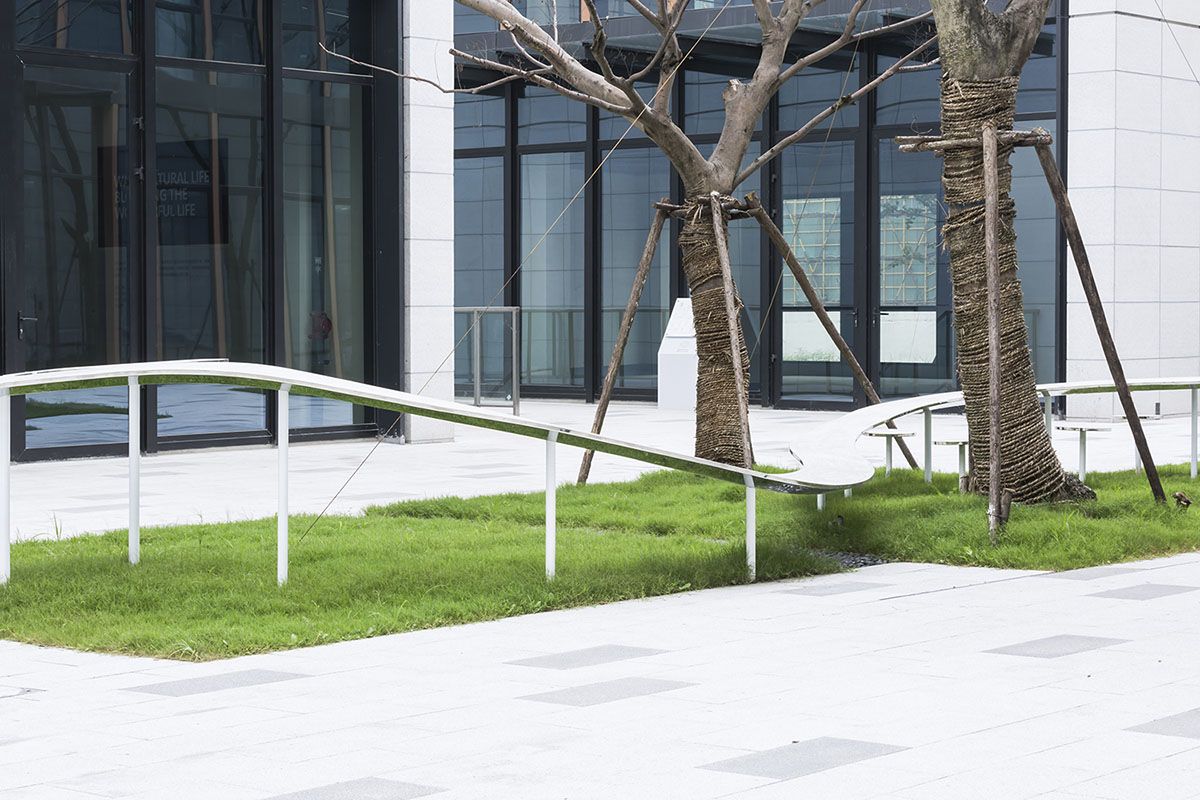 mirror stainless steel make it lighter and afloat | 镜面不锈钢的使用使桌子变得轻盈,有漂浮感
All the connection of plants, venue, and buildings are integrated by long table. And it also serves people for its physical function. Individuals finds his own location here. What's more, individuals with their separated position links to integrity. Architecture and nature is treated with equivalent.
通过"长桌"处理植物与场地、与建筑之间的联系,同时它又是为人服务的,满足一般桌子的所有功能。个体的人在这里找到自己的一个位置,而多个"个体行为+独立位置"连结起来,成为整体。建筑和自然被对等地对待。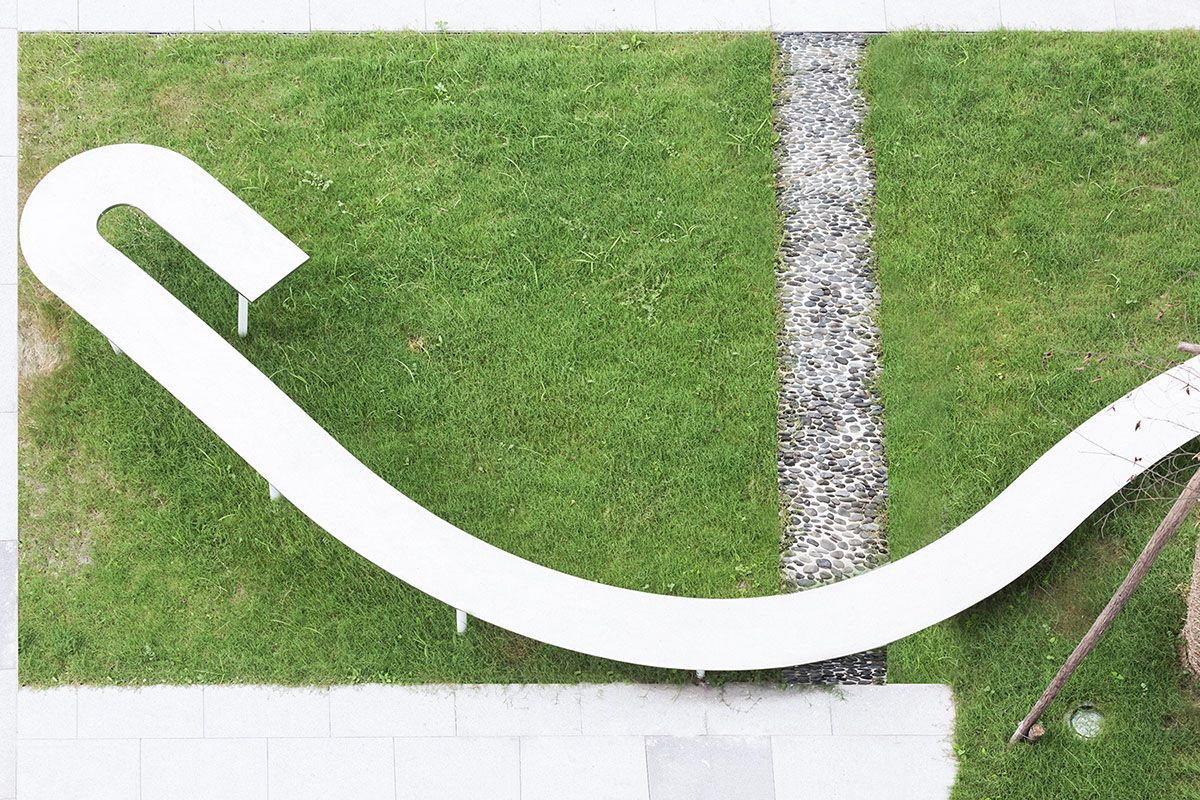 connection with site and building |"长桌"建立起植物与场地、建筑间的联系
landscape as table | "景观"同时为人所用,满足一般桌子的功能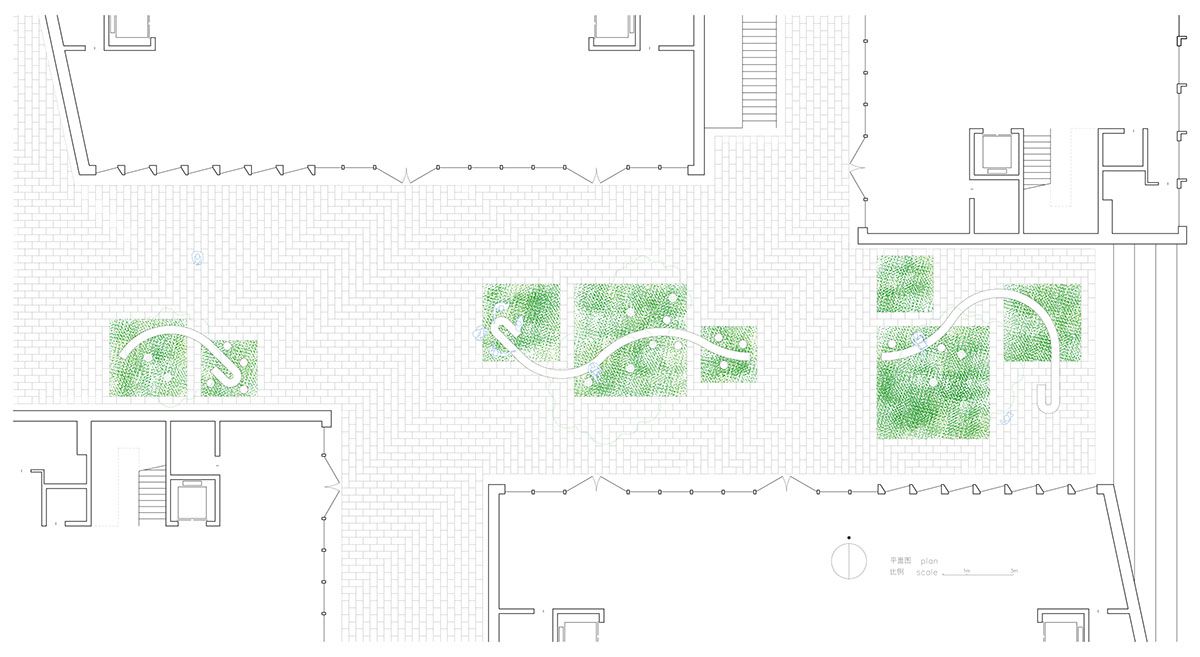 plan | 平面图