It is about 10 minutes' walk distance from Yongjia Road to Xiangyang South Road where it used to be Shanghai No. 4 Camera Factory. The block is quite private and not that eye-catching being downtown Shanghai. Entry facing to Xiangyang South Road, when glass door open automatically and entering into a compact lobby, passing by small service counter, it then takes just few steps to the elevator.
从永嘉路走到襄阳南路,大约十来分钟。后者是原上海照相机四厂所在。这座建筑就身处上海闹市区的面貌来说,十分隐秘,一不留意就走过了,它的大门朝襄阳南路开着,自动玻璃门,不大的门厅,门口有一个小小的台子是管理员的位子,再往里走就能看见电梯。
atelier mearc moved in here after spending 6 years in Yongjia Road office.
告别了朝夕相处6年的永嘉路办公室,米凹来到这里。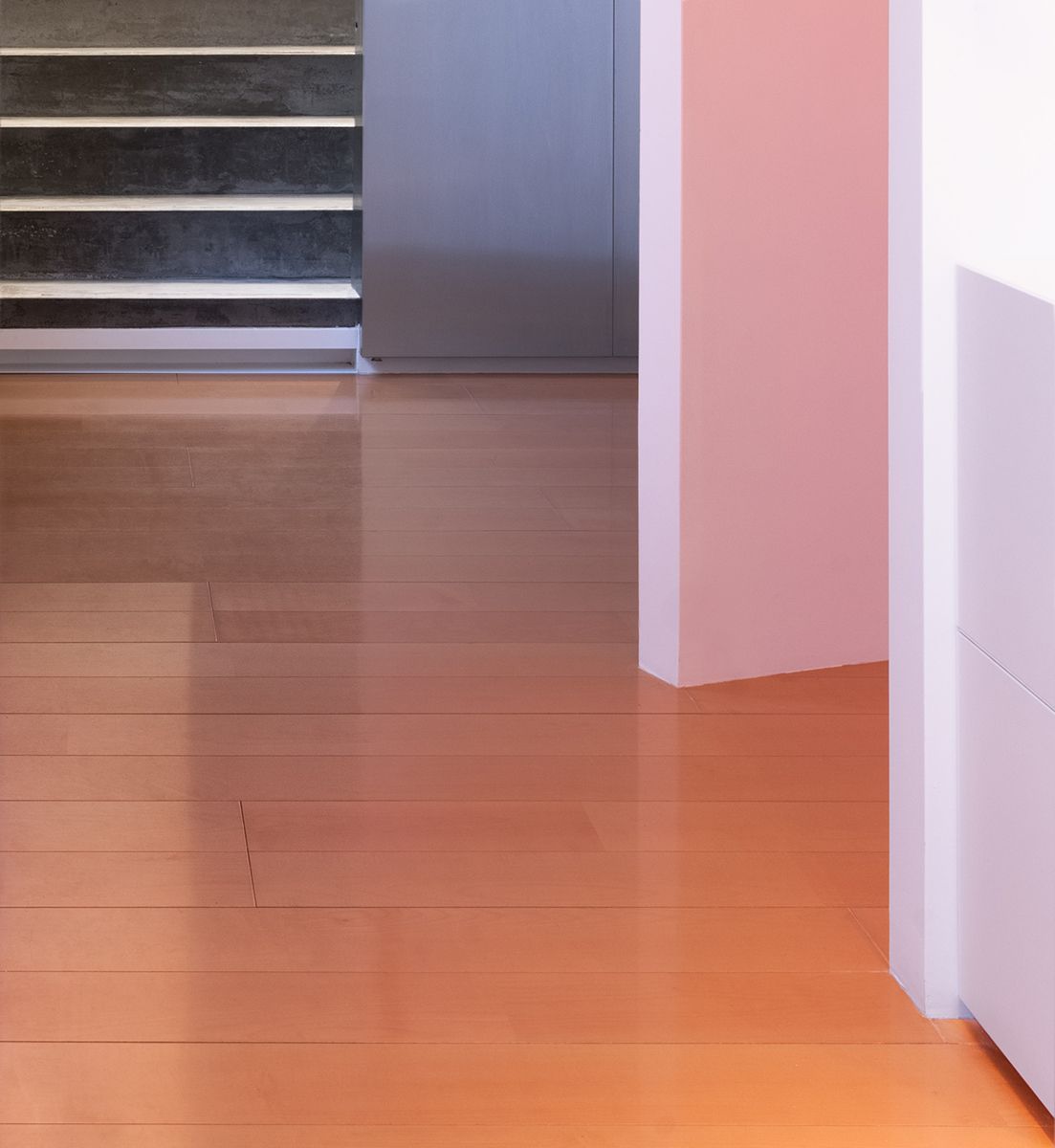 office entrance| 办公室入口处
In the new office of atelier mearc, a piece of integral 'empty room' is reserved that no furniture is loaded in, and in a sense of uncertainty, there is no specific function assigned.

在米凹工作室的办公室,预留了一个单独的"空的空间",从形态上而言,它没有装载任何家具,同时,在一种不确定性之下,它也没有被赋予任何一项具体的功能。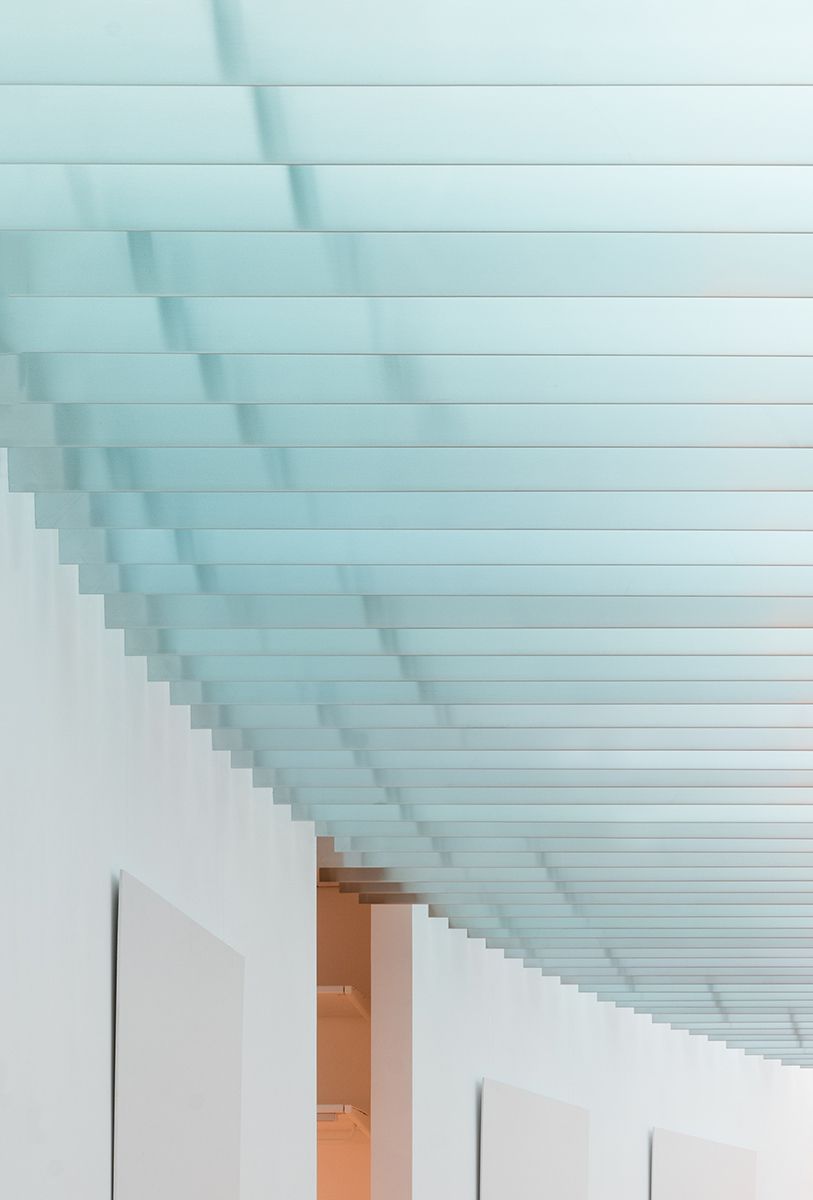 titanium zinc plates layered ceiling of 'empty room'| "空的空间"顶部覆以层叠排列的钛锌板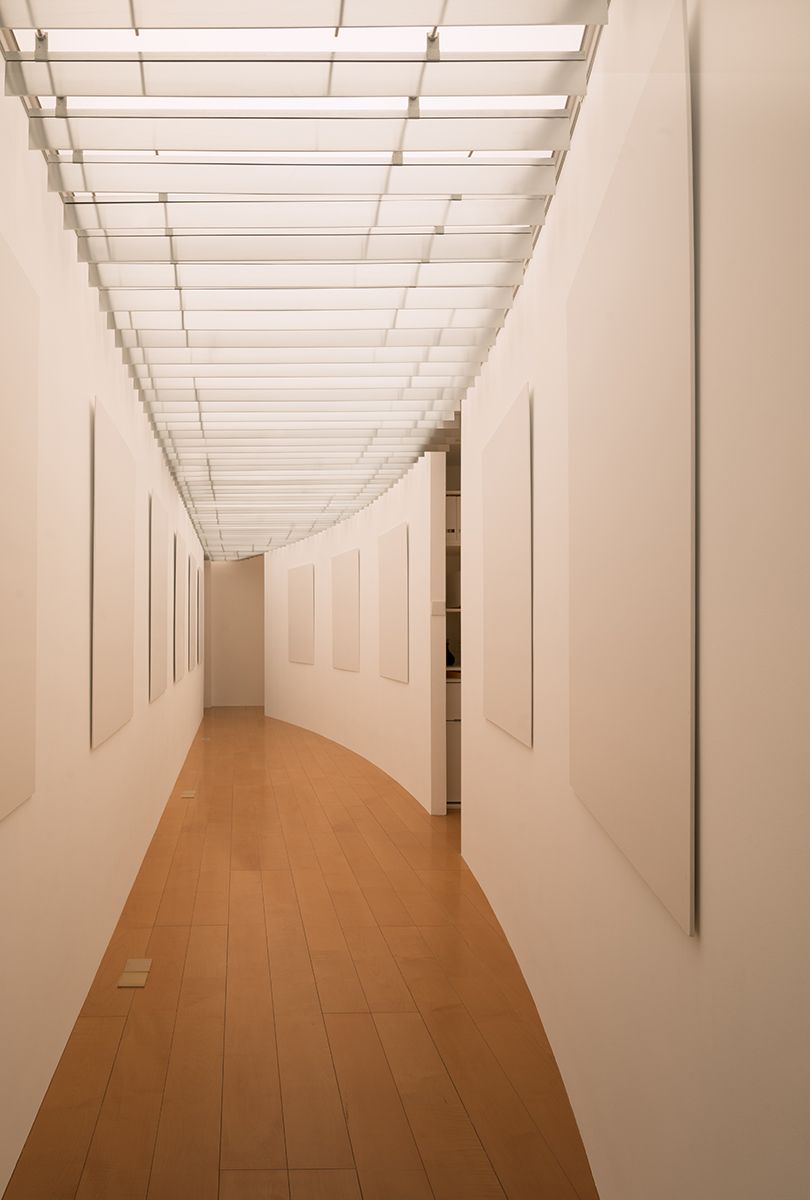 in the 'empty room'|在"空的空间"里
The 'empty room' is the very center of the office, i.e. wherever you go whether meeting room, printing room, tearoom, model room or drawing room could pass through here.
"空的空间"位于整个办公室最中心的位置,无论去哪个房间——比如会议间、打印间、茶水间、模型间、绘图间等,都可以经过这里。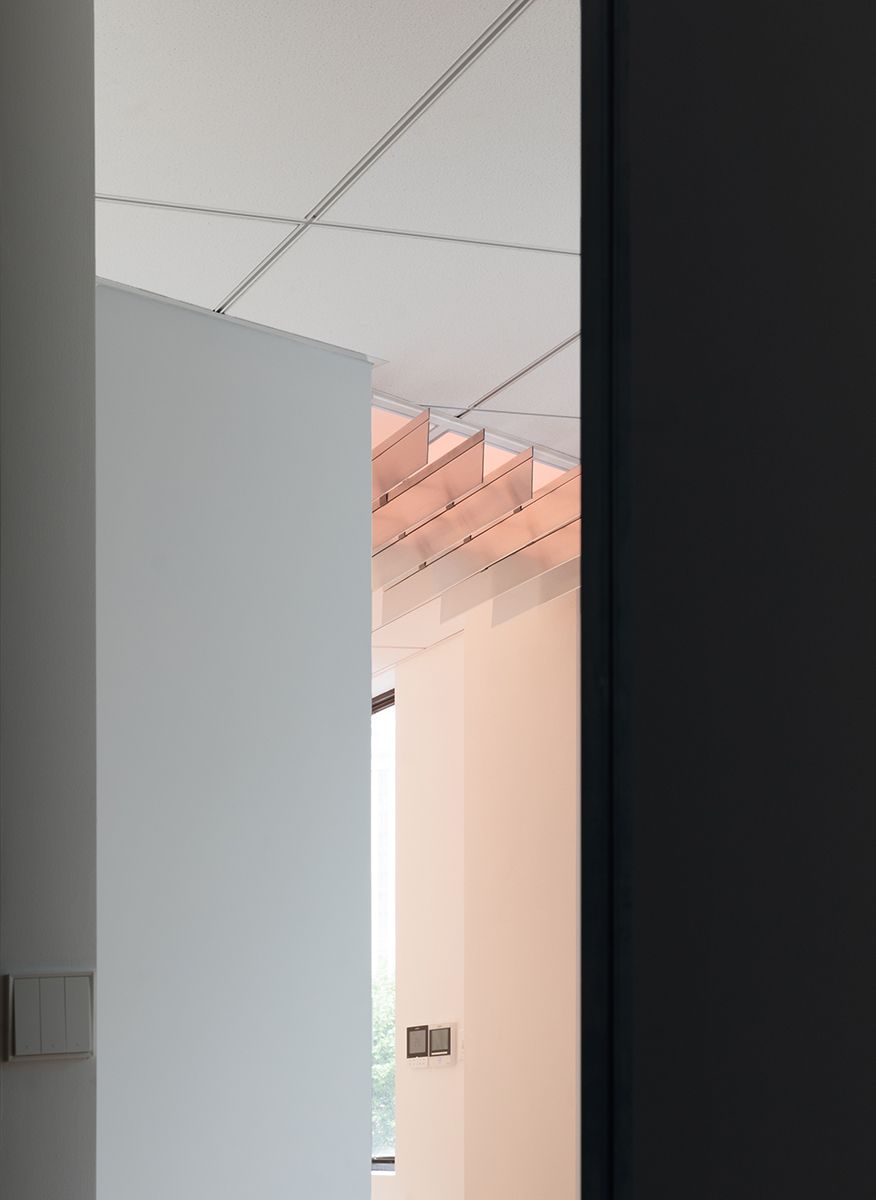 curved wall of 'empty room'| 空间的曲线墙面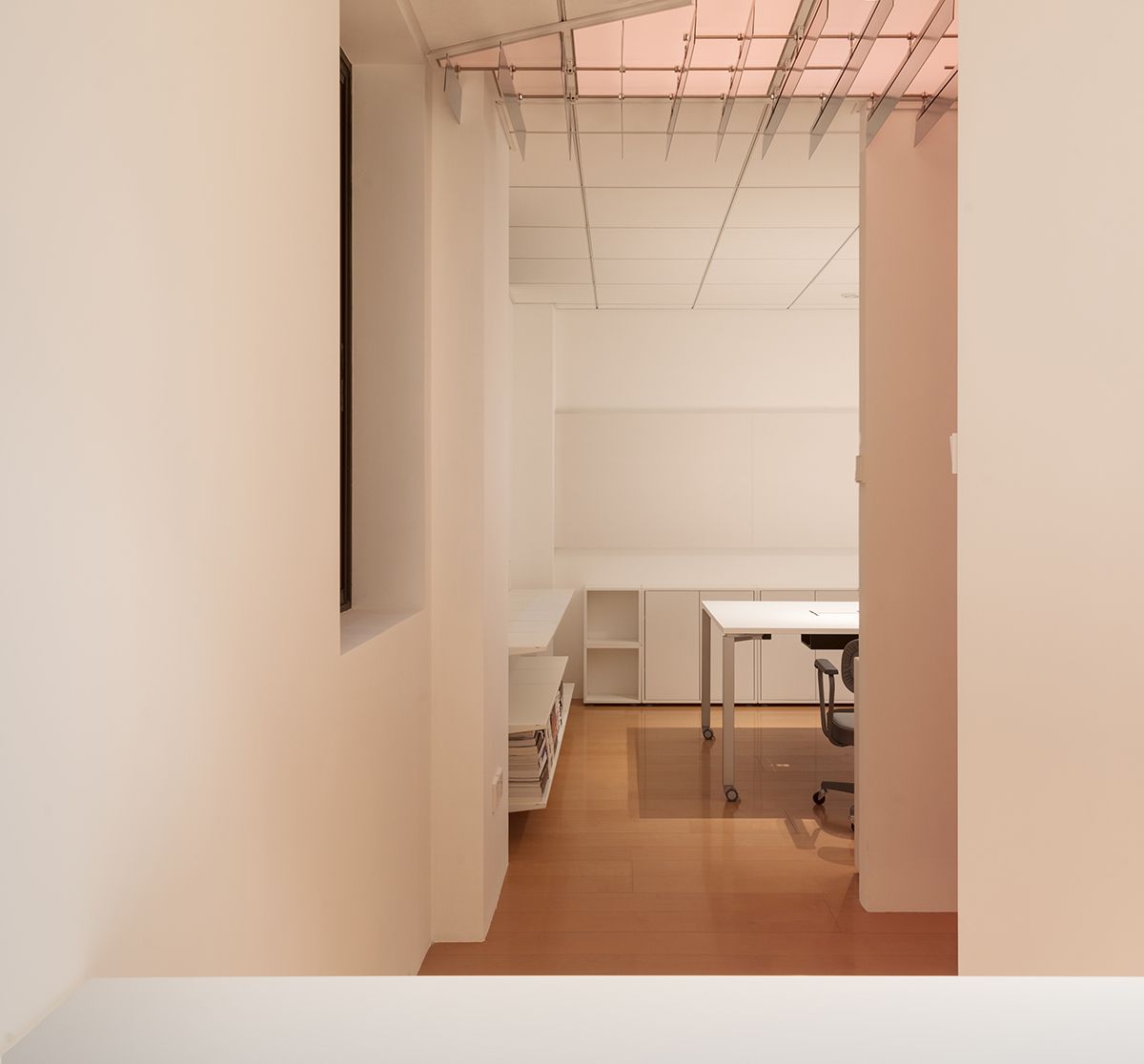 from model room to drawing room| 从模型间望向绘图间

entrance straightforward to drawing room| 门厅向绘图间的直达路线
The curved wall defines the space volume and boundary, thus creating a clear atmosphere of 'being in it' or 'being out of it'.

曲线的墙面确定了空间的外部形状,并使它具有了两面性,让人能够清晰识别"在空间内"或相反。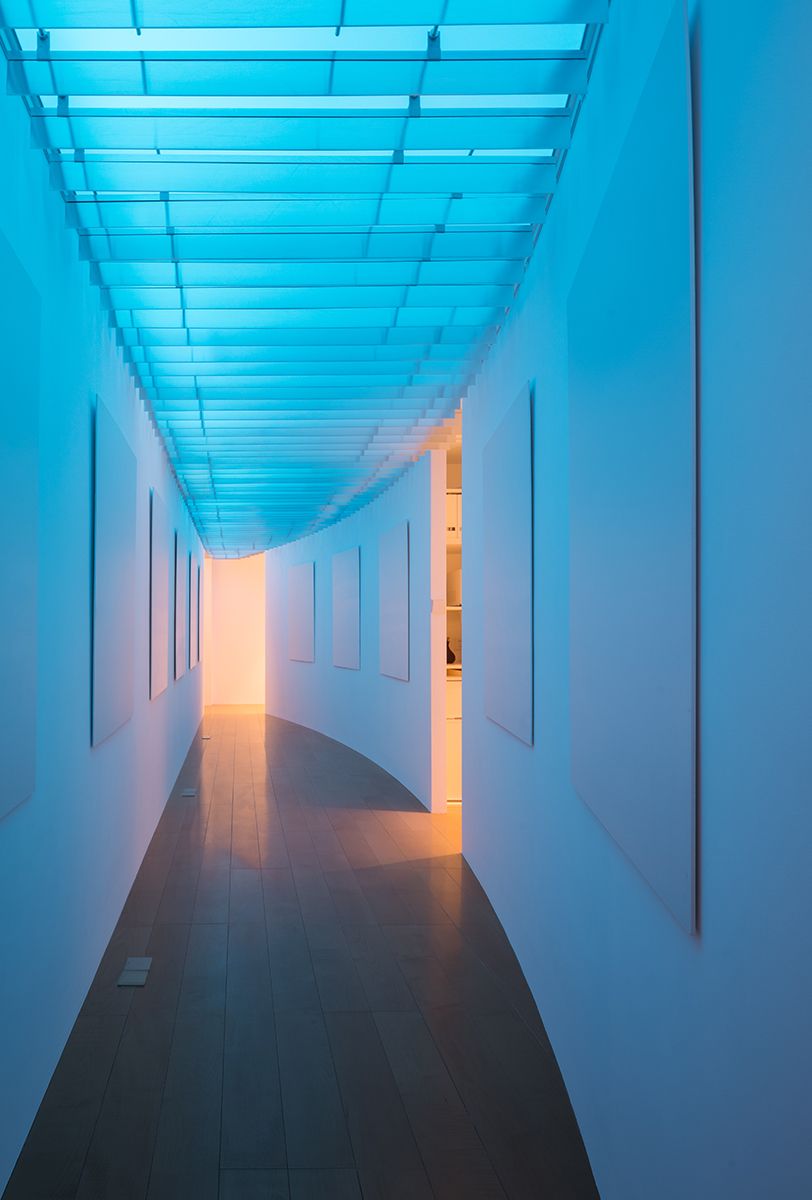 'empty room' under different illumination| 不同灯光下的"空的空间"

It is both a space now acquired and a 'future' prepared, and undefined functions brings more possibilities. Layered titanium zinc platesand soft light film together presenting sky-like transparency. At this moment, simply being here makes you feel relaxing and joyful.
它既是这个办公场所"现在"已获得的一个空间,又预留出一个"未来",不确定的功能增加了无限可能性。空间顶部以切割成长条形的钛锌板层叠覆盖,在灯膜灯光的作用下,呈现出透明感,并为空间造出一方"天空",似是室内的一处"室外"。此时此刻,身处此地,人的心情因为释放而喜悦跳动。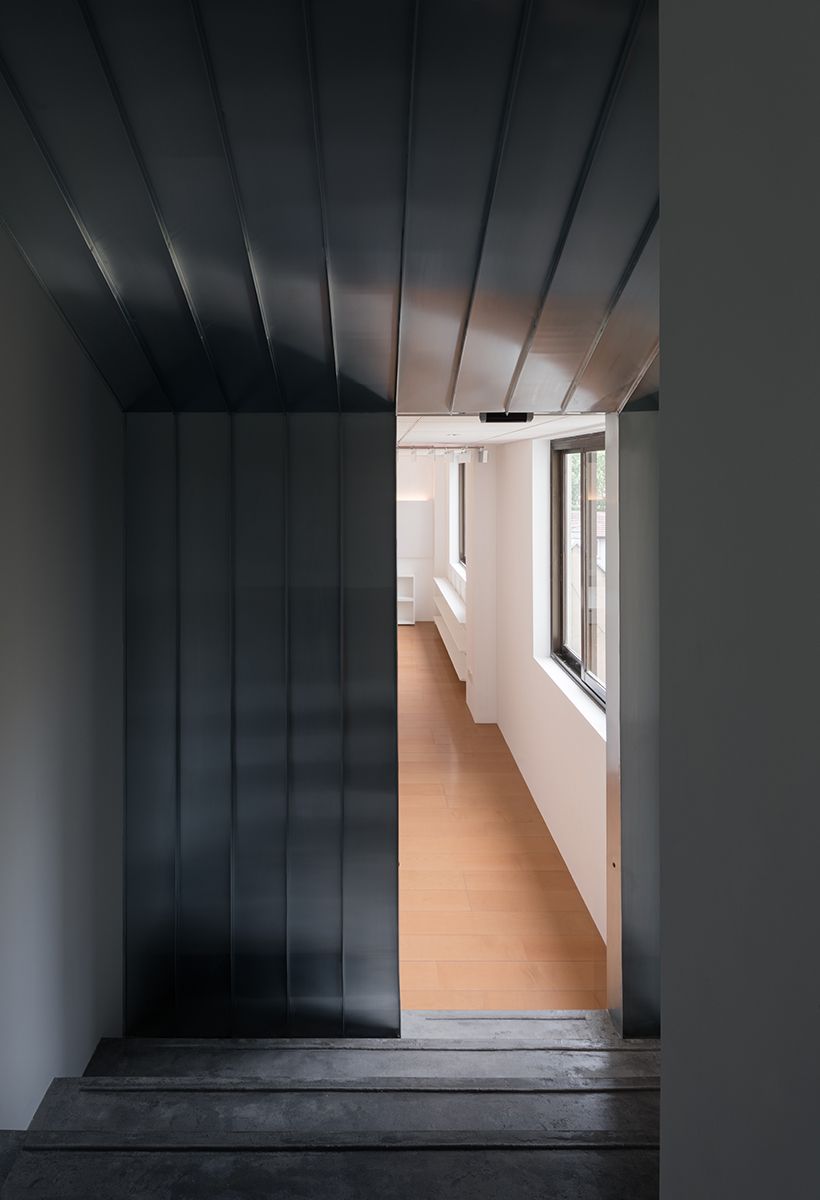 entrance formed by cement steps and titanium zinc eaves| 水泥台阶和钛锌板"屋檐"构成的门厅
As for the whole office, the 'empty room' affects all the other necessary functions emerged in and is the most important element. Moreover, similar as the entrance which is also a little space the office contributes to the building. Functionally, the staircase resolves floor level difference. Visually, a more intense affection thatboth cement stairsteps and titanium zinc plates are constructed by hand at the site, meanwhile fitting the lights. Although seems that the entrance does not serve directly for the office inside, it responses to the foyer structure of the building accordingly.

对于整个办公场所而言,"空的空间"影响了放置进来的所有办公室功能,是最重要的一处预留空间。此外,具有相似意义的门厅,亦是办公室为身处其中的环中商厦这座建筑"贡献"出的小空间,它虽看似不服务于室内的办公室,但从外观和功能两方面——存在高差的地面由楼梯连接,用钢筋混凝土现浇成型,地与空呼应,以手工敲打的方式用钛锌板搭建了斜面"屋檐",配合上灯光——回应了写字楼楼面本身所具有的玄关结构。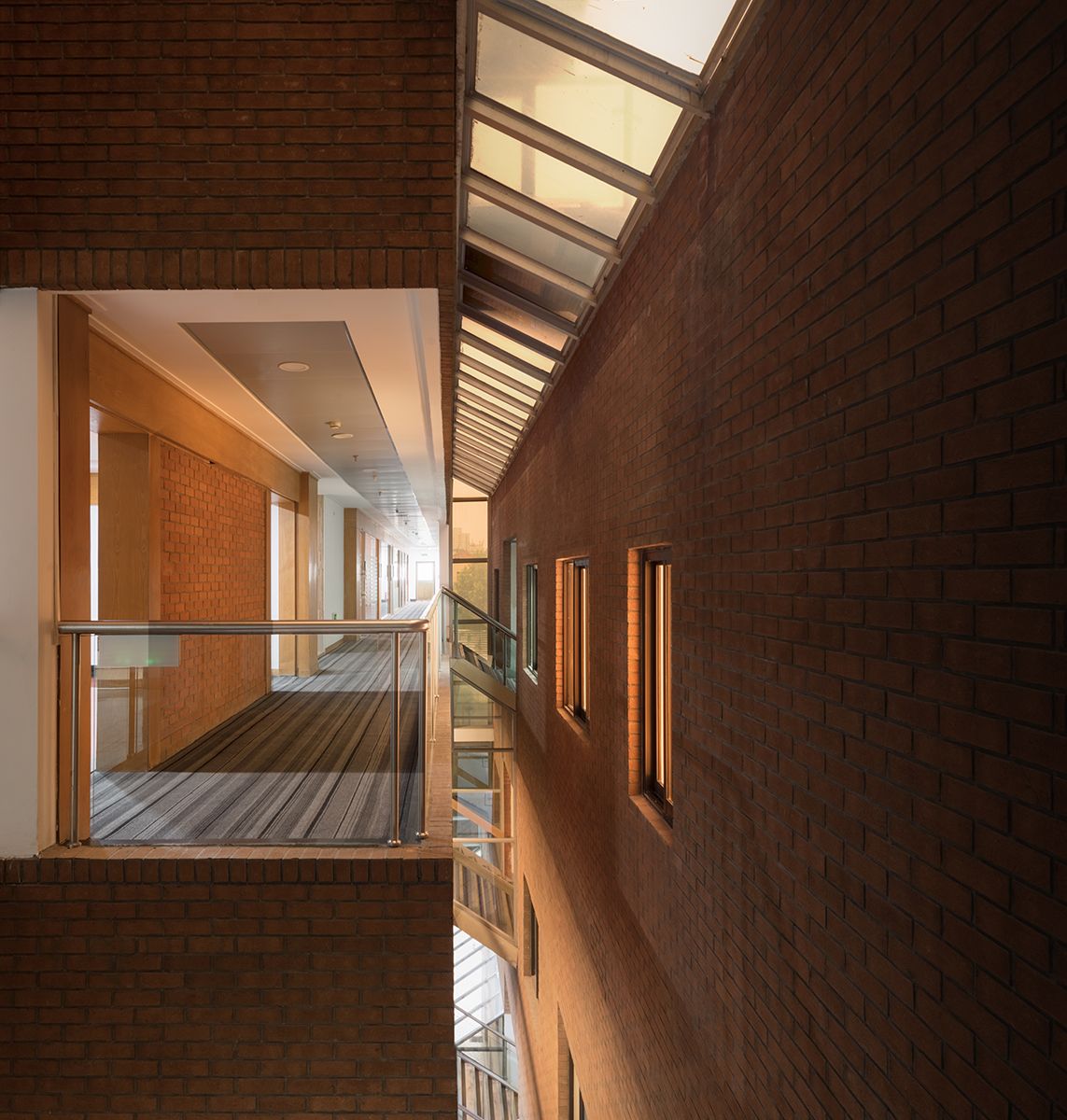 daylight-flooded atrium| 办公楼的采光中庭
The renovation design of Shanghai No.4 Camera Factory was in charge of Mr. Kong Shaokai who worked as an architect in Taoho Design, and the construction was completed in 1995. Noticing the narrow patio between the original south and north building, and taking careful consideration of height level difference between the two separated buildings, a subtle solution of connecting them to form a lighting atrium was implemented. In this way outdoor was brought indoor. What's more, the red tilefaced wall retains outdoor air. On each floor, staircase works as a transit between the two buildings that looks like a foyer structure. This originates the idea of how the entrance of atelier mearc office responds to the building.

上海照相机四厂改建工程完成于1995年,由何弢建筑设计所建筑师孔少凯主持设计。在基地原有的南楼和北楼之间的狭长天井,利用楼栋高差,以构筑采光天棚的方式建造了采光中庭,将室外转换成室内,又用红砖墙保留了室外感觉。在每层楼面,用楼梯作为两栋楼房之间高差的过渡,形成类似玄关结构。这就是米凹办公场地门厅空间回应的由来。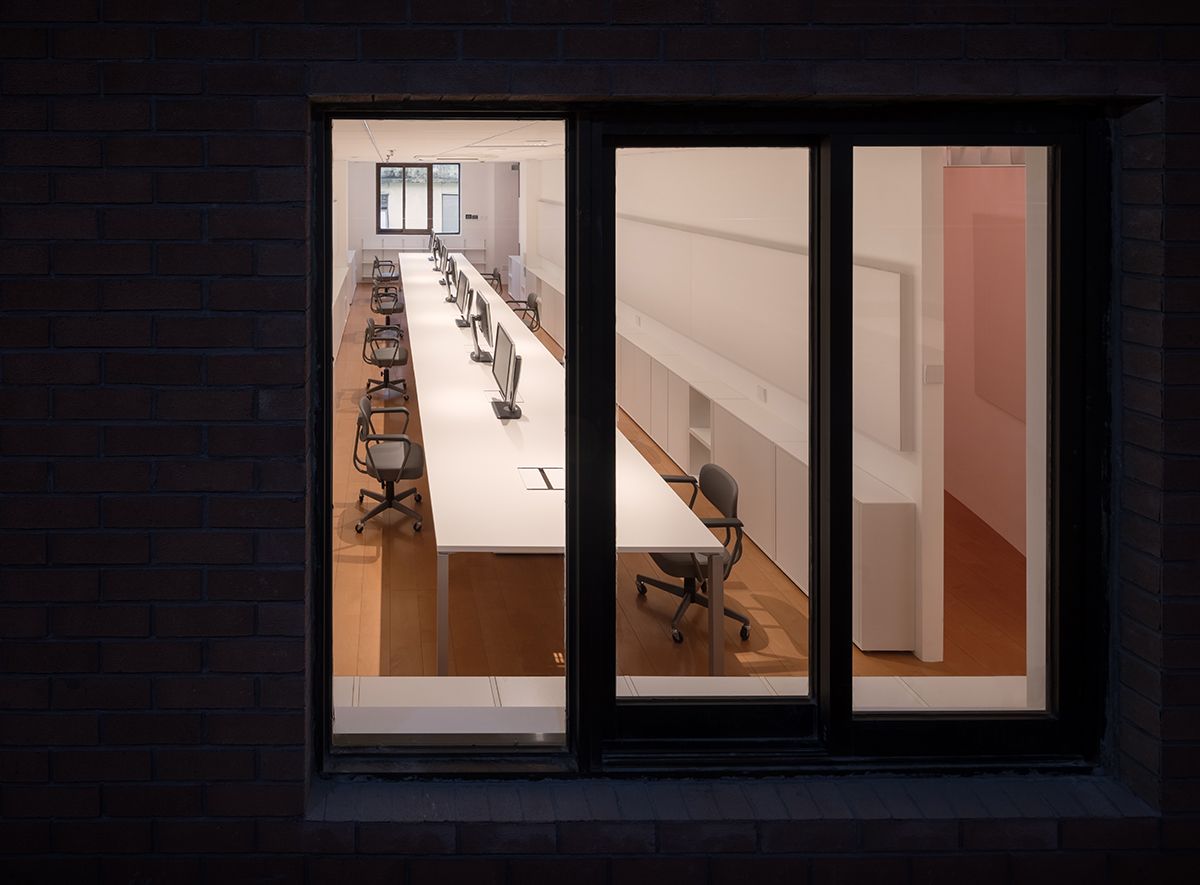 from passageway to drawing room| 楼面走廊望见办公室绘图间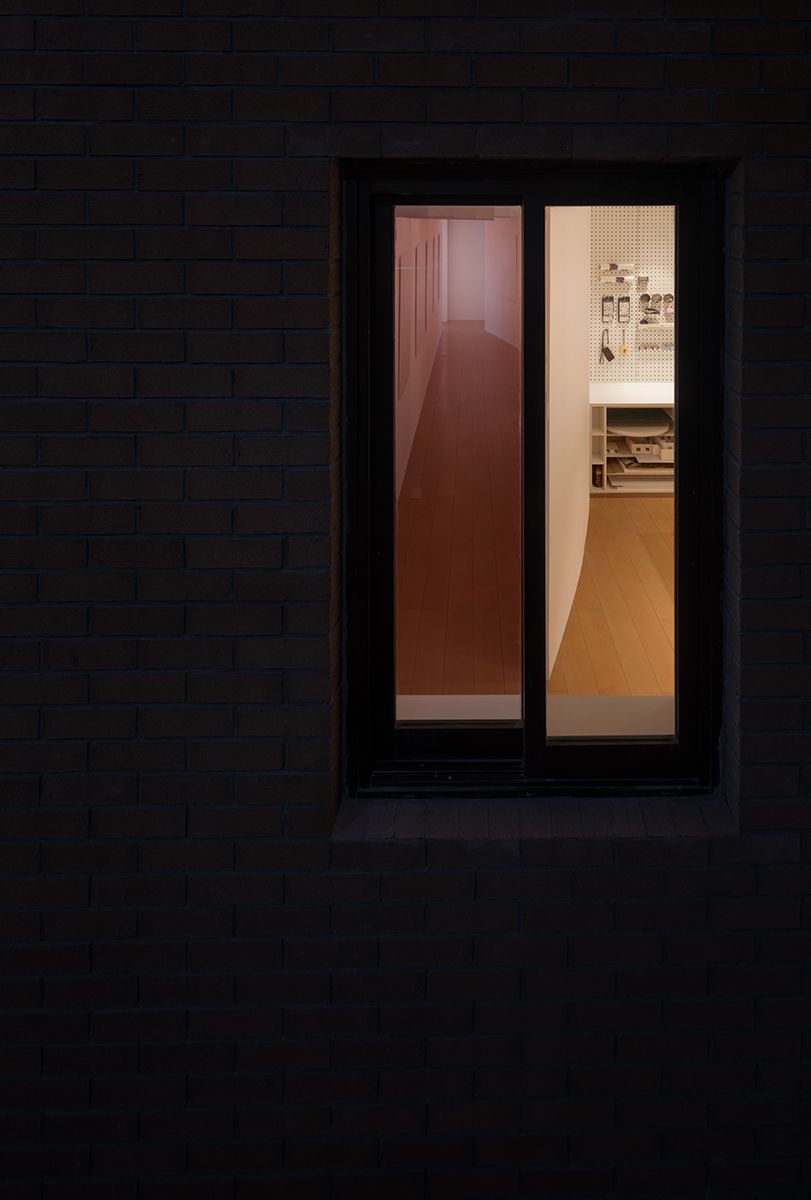 from passageway to the office| 楼面走廊望见办公室
Here is a finely scheduled winding path to the office, which is more of a recreation of the young designers and the elders: stepping out of the elevator, going ahead a 53-meter walk, the office could be easy to see walking by the atrium, but not yet reach, feeling a mixture of outdoor atmosphere though walking indoor. The office islocated at the most furthest on the floor, it takes several turns to entrance.

走出电梯大约经过53米长的走廊——在玄关结构的一侧,已能隔着中庭望见米凹的办公室,两边都是室内,却像是混杂了室外的气氛,让人头脑中冒出"曲径通幽"这个词来——望见,却还未到达,需再转几个弯,才到了办公室的入口。这里便是整层楼面最远的一间了。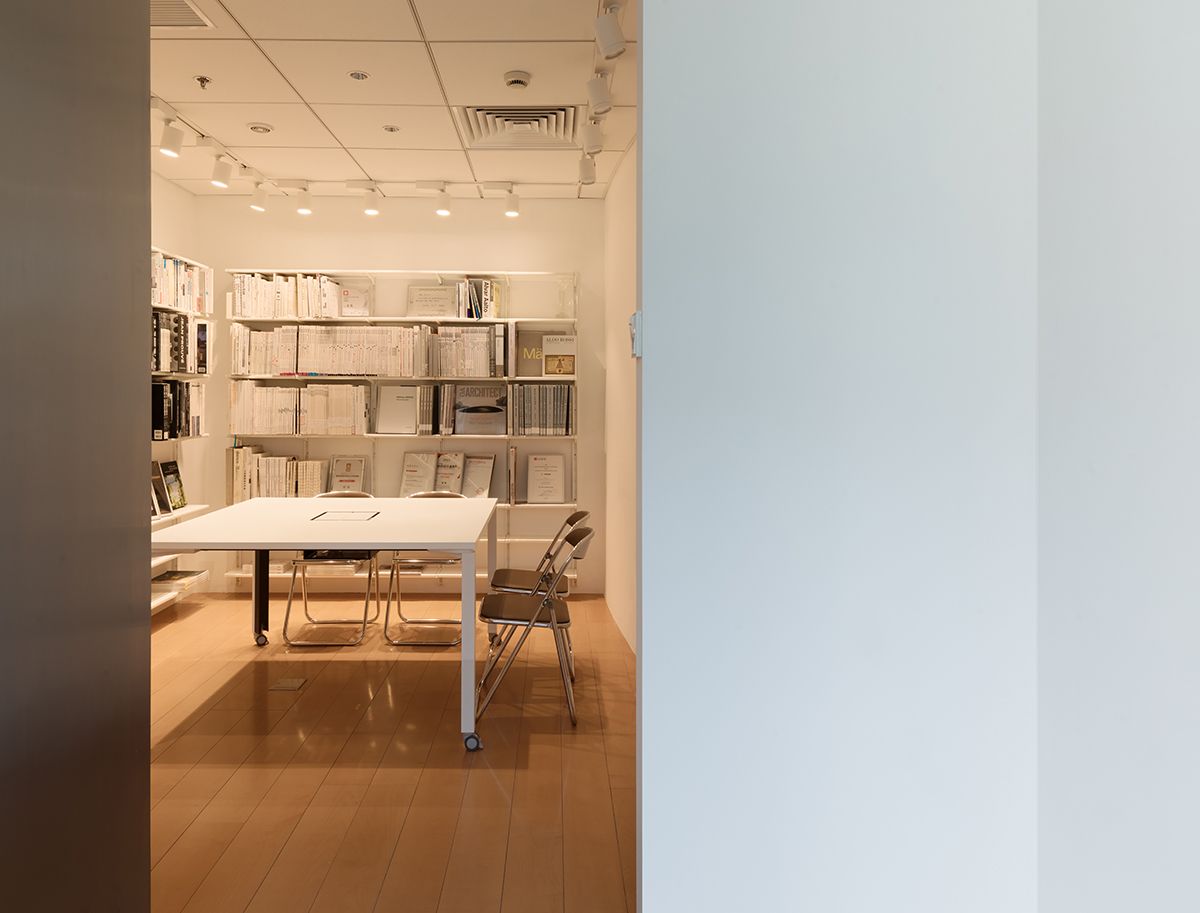 meeting room| 会议间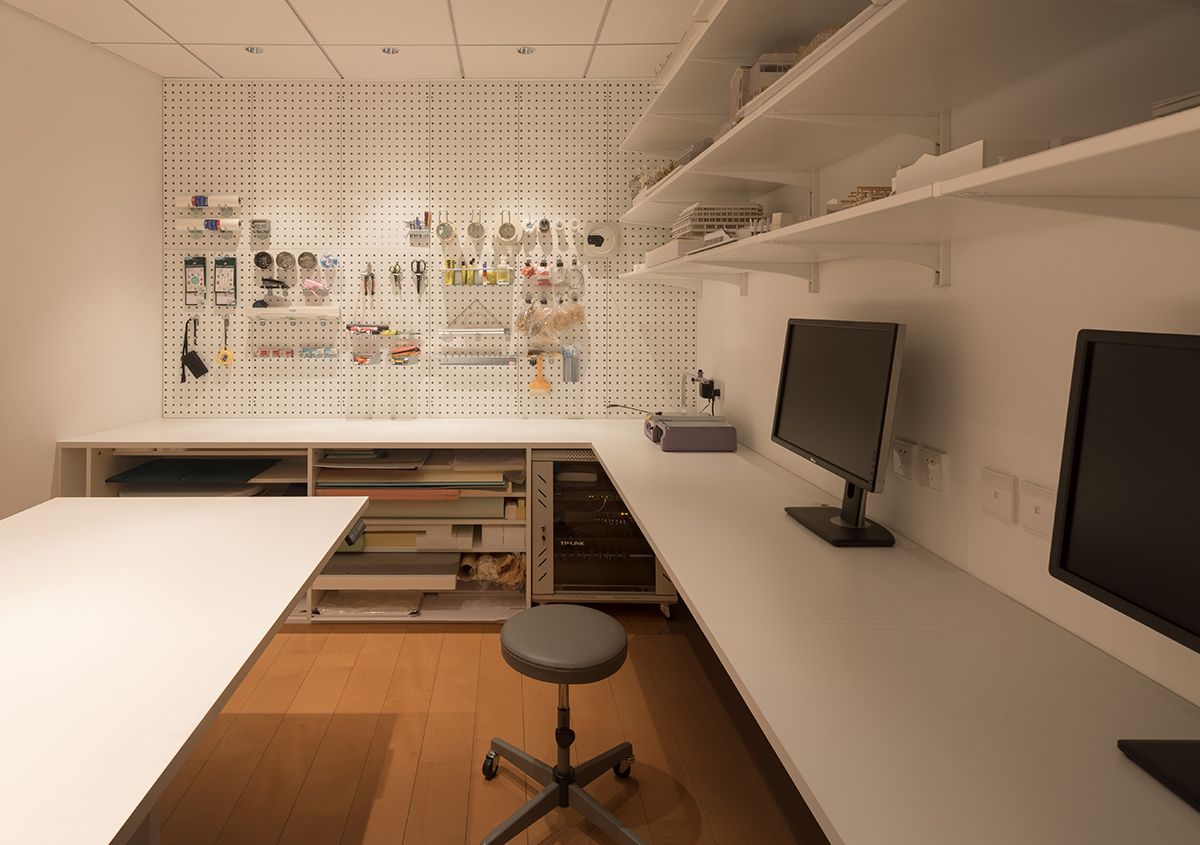 model room| 模型间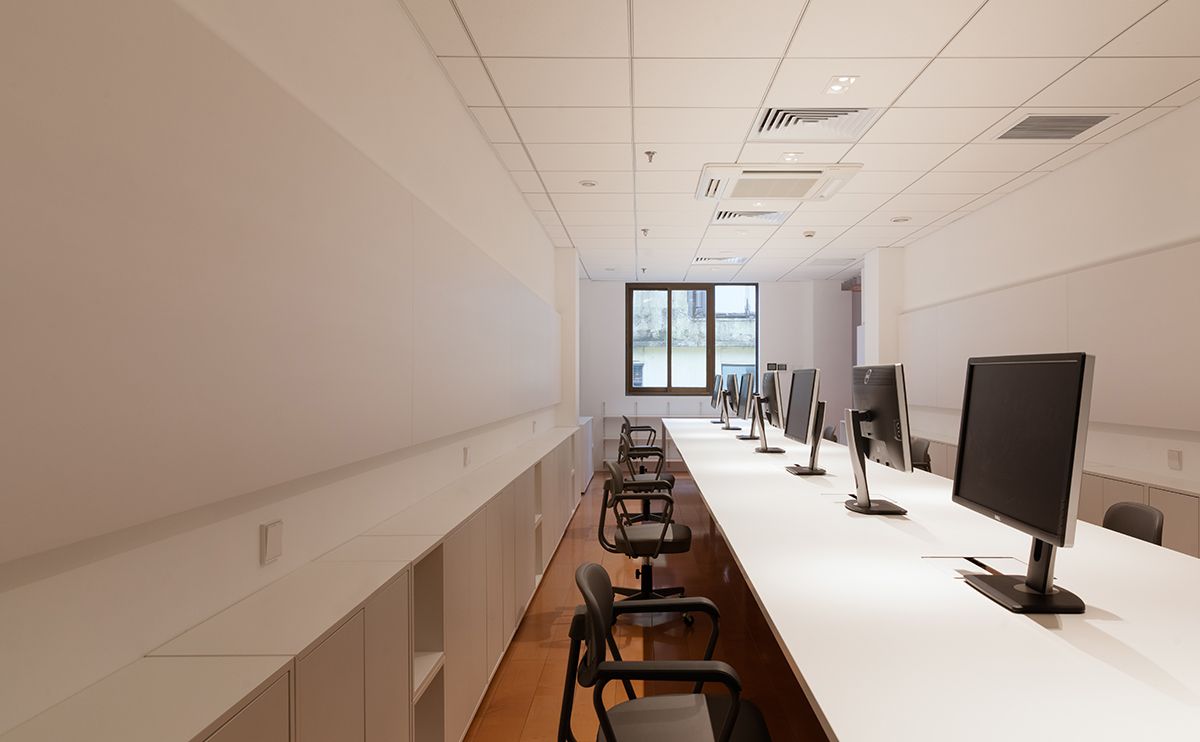 drawing room| 绘图间
The office is set up according to passive house standardso that temperature and humidity are kept steady. Adequate measures have been taken as to ceiling, wall and floor to ensure energy efficiency of ample insulation and airtightness. A page of new and old, technique and materials, people and environment, time and space is unfolding.

米凹办公室参照被动房标准进行搭建,室内保持温湿度稳定,顶面、墙面和地面都增加了保温和气密的措施,确保空间的低能耗和室内的舒适。新、旧,工法、材料,室内、室外,时间、空间……在这里交汇,把人与环境联系在一起。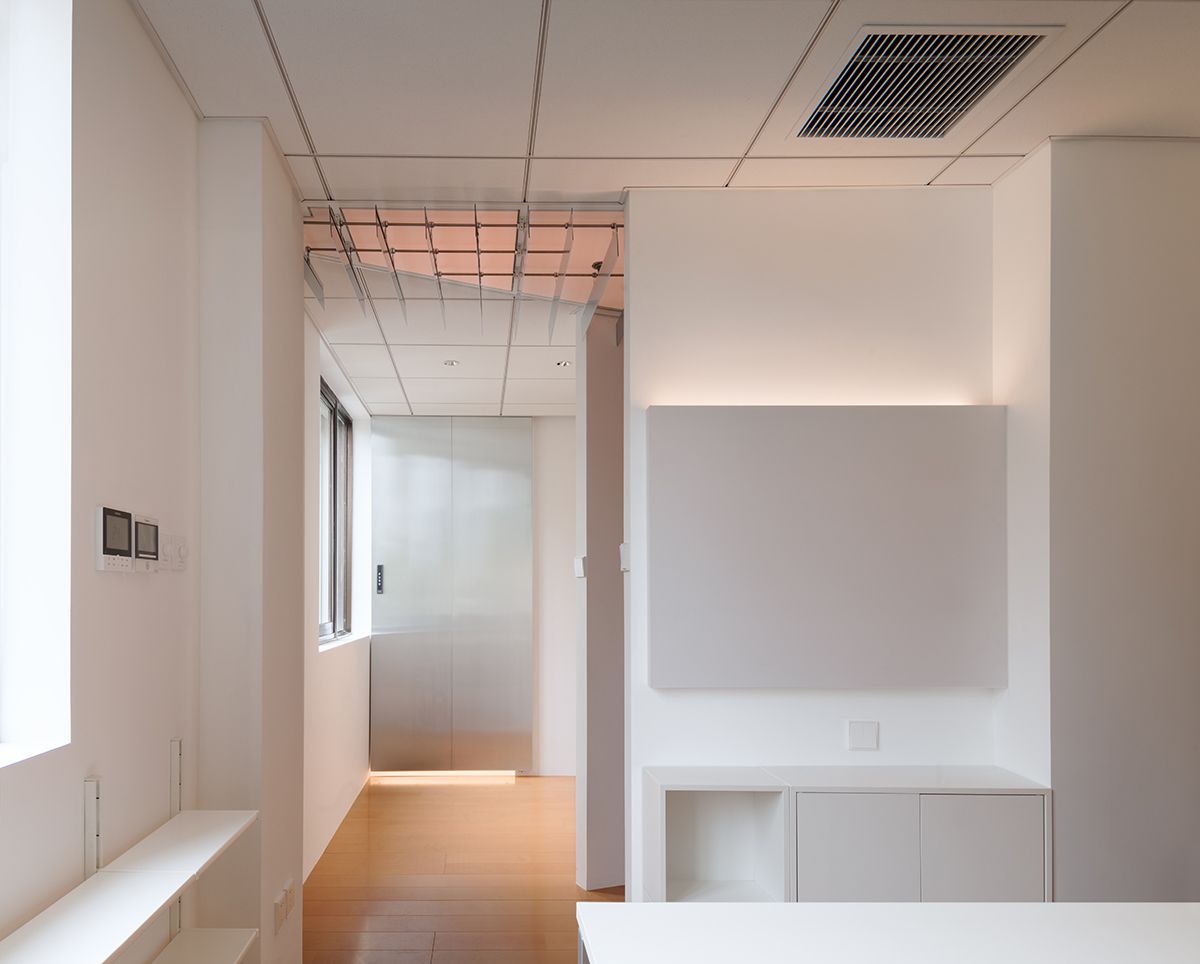 from drawing room to entrance| 绘图间望向办公室入口

plan| 平面图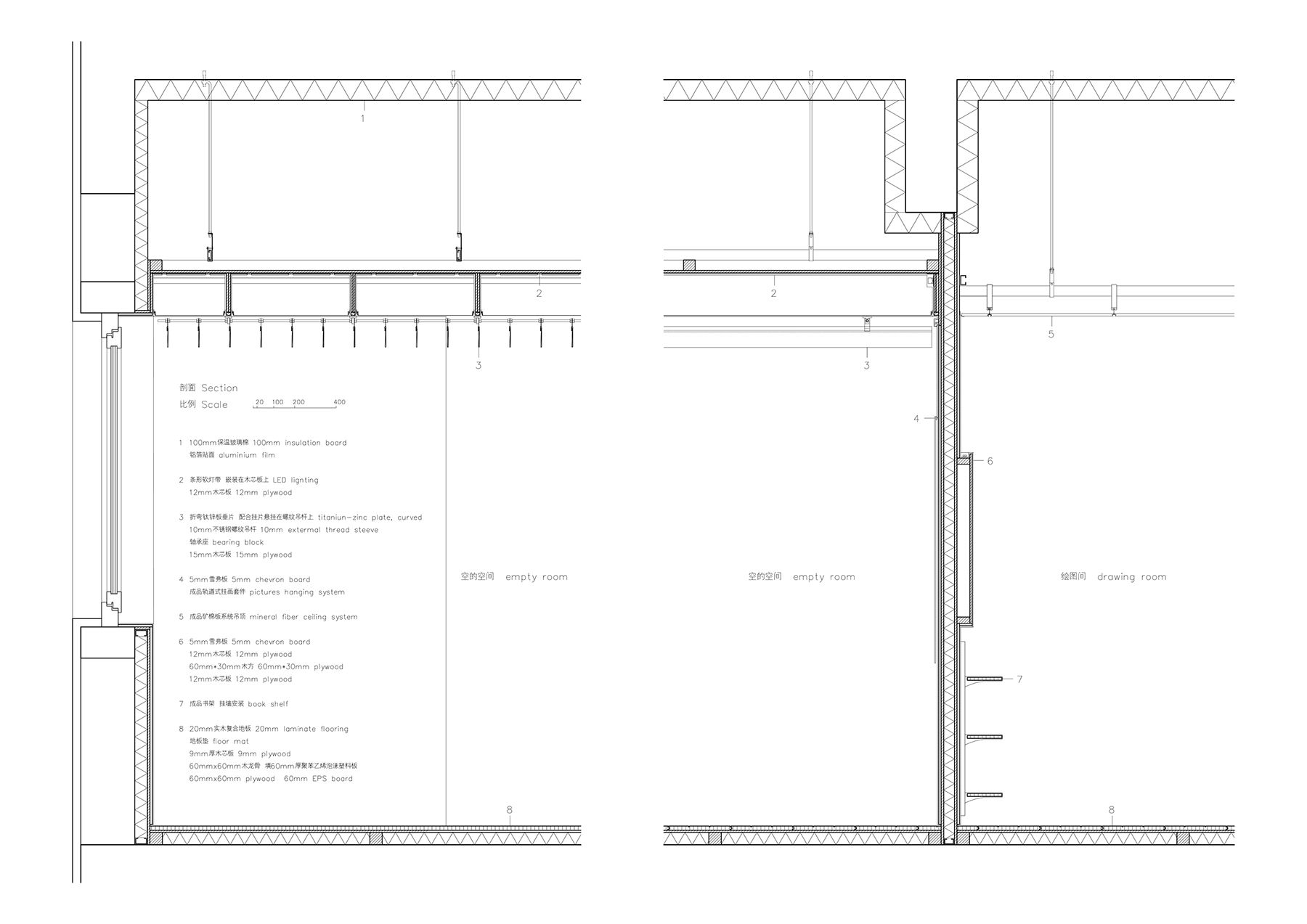 section| 剖面图